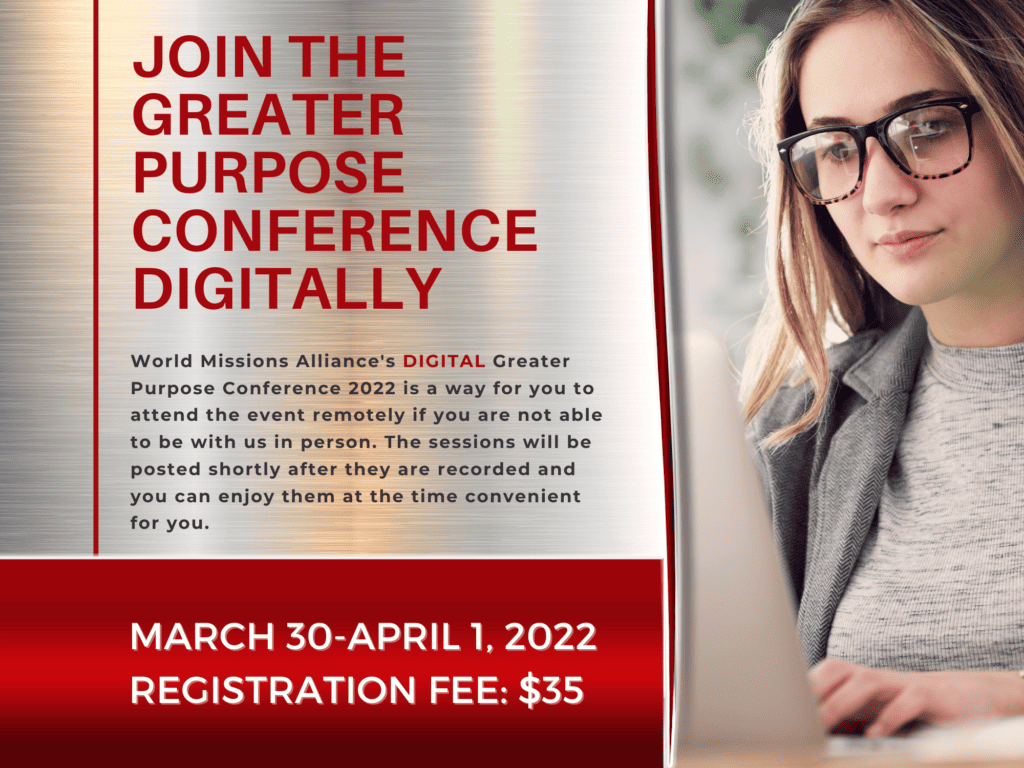 Digital Conference Registration
Everything You Need to Know About the 2022 Greater Purpose Conference
"As you go, proclaim this message: 'The kingdom of heaven has come near."
What is a Kingdom man or woman? It is a person who is in love with Jesus. A person whose knowledge of Christ surpasses intellect and reaches into the very depth of the soul. It is a person whose compassion for another human being mirrors the heart of Christ. It is a person who is willing to step into the unknown with a trust that he or she can be used by God for a greater good. It is a person who believes that his or her life matters in God's plan for humanity.
Are you this person? Do you want to be this person? Do you want to be surrounded by these kinds of people?
The Greater Purpose Conference is something not to be missed! We invite you to join a community of people who just like you are open and willing to give themselves to God's purpose. Every speaker you will hear will pour into you a deeper revelation of the unique, complex and incredibly gifted individual you are created to be. This gathering  could be a launch of a new adventure, a fresh start, a next chapter in your life. It could be your date for an intimate encounter with the Master. Register now and let us know you are coming. We want to prepare and welcome you to our WMA family reunion at the Greater Purpose Conference March 30-April 1, 2022 in Branson, MO where you can embrace your calling, join your tribe and discover your mission field. 
– Check out the Speakers
– Check out the Venue & Accommodations (Radisson Hotel Branson, Missouri)
– Curious about miraculous within medical science? Passionate about Medical Missions? Attend the Healing & Medical Missions Session 
– Join us for a Fellowship Luncheon Thursday March 31, 2022 (Deadline to register March 1, 2022)
 – Come and learn about youth in missions and the mission trip sponsorship opportunities available through Project Timothy at the Project Timothy Session 
 – Are you new to WMA? Are you bringing a friend new to WMA? RSVP for our New WMA Friends Reception Wednesday March 30 – An appetizer reception for all our new WMA conference friends. (Deadline to RSVP March 1, 2022)
 – Fun and fellowship in Branson, MO. Extend your stay Saturday April 2nd and join us for a fun day enjoying the Branson Experience. (Deadline to register March 1, 2022)
– Pre-order your Greater Purpose T-SHIRT now. 
 – Reserve your spot at the That's Kingdom Celebration Banquet with a fabulous three-course meal and dessert buffet. We will be giving away a free mission trip for the year 2023. (Deadline to register for banquet March 1, 2022)
Digital Conference Registration $35
Single Session Registration $7
Single Conference Registration $35
Couple Conference Registration $65
Single Banquet Registration $35
Couple Banquet Registration $70
Single Conference & Banquet Combo $70
Couple Conference & Banquet Combo $135
Conference and Banquet Registration
"Hanging out with brothers and sisters from all around the country. Special!"
"Seeing friends, making new ones but most of all being in the presence of the Lord."
"Anoosh was fantastic and made me think about what kind of relationship I need to have with my heavenly father. Terry challenged me with the "who are you and why are you here" sermon. I really needed those two especially right now in my life."
"Connecting with other believers and sharing our stories. Encouraged and blessed by all the speakers. Sharing the same goal in wanting to go and share the gospel!"
"The banquet was the icing on the conference. It was wonderful to end the conference this way. Maybe next year I can stay for the Branson experience if you schedule that again."
" The speaker was excellent & increased my faith."
"Things were on schedule & Spirit Led" Deena P
"Each session was so packed with information that was just so relevant to life right now." Denise C.
"I have never been to a conference like this before. Every session was so good. We must have a heart for the one more who needs Jesus!" Melinda F
"God was center stage & that is what I enjoyed most."
"Very nice and enjoyable event with wonderful speakers. I also enjoyed getting to chat with several seasoned world mission travelers about their experiences." Shonna M
"It was just what I needed."
"It really lifted my spirits." Jan C.
"Loved seeing all my friends from my Mission Trips and met many more I wish to be with someday."
"Loved the worship! Made several new friends and connected in many ways. Everyone I met was so loving. Can't wait to go on my first trip."
"I discovered that you can come to the Father broken and he can still use you" Lori M
 "Everything was done with a spirit of excellence and LOVE. To God be the Glory! Looking forward to next year." Catherine T.
"Wow! What an incredible blessing and a show of love! I enjoyed it from beginning to the end. It was the highlight of my year." Anoosh B.
CHANGED LIVES CHANGE LIVES PODCAST SERIES
If your life has been changed by Jesus I think you will enjoy our new podcast series "Changed Lives Change Lives". We invite you to listen as our guests share of the encounters with Christ that changed their lives forever and how that now compels them to help others.